"THIS IS GREAT", HOLLARED "ROONY TUTOR":
"NO MORE HAVING TO WANDER ABOUT THE CITY WITH FOAM ALL OVER OUR MOUTHS! I DOUGHT THOUGH, THAT IT CAN CURE RABIES AND THAT THE 'SPONGE GUM' SUCKING UP THE FOAM CAN KEEP THE FOAM AWAY FOREVER; SO I'D BETTER GO BUY SOME MORE 'SPONGE GUM'."
HE LEFT IN HASTE AS HIS WIFE, FAMILY AND DOG PRESSED ON HIM TO HURRY, BEFORE THE FOAM COMES BACK. KNOWING THAT THE STORE WAS ABOUT TO CLOSE, THEY LOOKED ON WITH GREAT HOPE AND ANXIETY, BEGGING THE FUTURE TO BE KIND TO THEM.
"RONNY TUTOR" ARRIVED AT THE STORE JUST IN TIME; BUT STILL WAS ALMOST TOO LATE BECAUSE HE RAN INTO AN UNEXPECTED OLD AQUAINTANCE RIGHT OUTSIDE THE STORE AS HE WAS COMING OUT. IT WAS NONE OTHER THAN "FREDDIE FRUITMAKER", EXITING THE STORE; AND TO "ROONY TUTOR'S" ABSOLUTE AMAZEMENT, "FREDDIE FRUITMAKER" HAD LIME COLORED FOAM ALL AROUND HIS MOUTH. IN HIS HAND WAS A PACK OF "SPONGE GUM".
"HEY", ASKED "ROONY TUTOR": "WHY DO YOU HAVE LIME COLORED FOAM AROUND YOUR MOUTH AND A PACKAGE OF "SPONGE GUM" IN YOUR HANDS? DON'T TELL ME YOU HAVE RABIES TOO!"
"YES", REPLIED "FREDDIE FRUITMAKER"; "I'M AFRAID THAT I DO; AND I HAVE A CONFESSION TO MAKE: I'M THE ONE THAT BIT YOUR DOG AND GAVE HIM RABIES. I'M JUST A 'FOAMY FOOL'."
"THEN YOU'RE THE REASON THAT MY FAMILY IS A 'FOAMY FAMILY'; SINCE MY DOG BIT ME AND I BIT MY WIFE AND MY WIFE BIT THE CHILDREN AND THE BABY! DO YOU HAVE ANY IDEA HOW MUCH ALL THIS IS GOING TO COST ME?
"DON'T YOU WORRY", INSISTED "FREDDIE FRUITMAKER": "SINCE IT'S MY FAULT, I'LL PAY FOR ALL THE "SPONGE GUM". AS FAR AS GOING OUT OF TOWN FOR A CURE, I'VE BEEN GOING TO ANOTHER TOWN TO GET RID OF MY RABIES. I'LL TAKE YOUR FAMILY WITH ME EACH TIME I GO IN MY OWN CAR AND I'LL PAY THE MEDICAL BILLS UNTIL YOU'RE RABIES ARE COMPLETELY GONE.
"AND WHAT ABOUT THE DOG", ASKED "ROONY TUTOR"?
TO THIS, "FREDDIE FRUITMAKER" ANSWERED,
HE'LL GET EVERYTHING THAT THE REST OF YOUR FAMILY GETS."
SO EVERYDAY, "FREDDIE FRUITMAKER" GAVE "ROONY TUTOR", HIS FAMILY AND THEIR DOG A RIDE TO THE SAME OUT OF TOWN DOCTOR THAT HE WENT TO TO GET HIS RABIES CURED. "FREDDIE FRUITMAKER", TRUE TO HIS WORD, PAID FOR ALL THE "SPONGE GUM" FOR "ROONY TUTOR'S" FAMILY AND ALL THE MEDICAL BILLS THAT THEY HAD ACCUMILATED UNTIL THE ORDEAL WAS OVER. THIS INCLUDED PAYING FOR THEIR DOG'S "SPONGE GUM" AND HIS MEDICAL EXPENSES AND IN THE END, ALL HAD BECOME RID OF THEIR RABIES.
BEING PSYCHOLOGICALLY AFFECTED BY THE EXPERIENCE, ALL OF "ROONY TUTOR'S" CHILDREN GREW UP TO BE RABIE DOCTORS EXCEPT FOR THE OLDEST. HE GREW UP TO BE A "SPONGE GUM" SALESMAN.
THE ONE AND ONLY
END
"DWAYNE LEFTRIDGE" ALSO HAS MADE A CD CALLED "COMING OUT OF THE HERMIT'S CAVE"
WHICH MAY BE REACHED BELOW
⬇
⬇
"FREDDIE" SUGGESTED, "MAYBE YOU CAN GO TO A DOCTOR IN ANOTHER TOWN."
"ROONEY TUTOR" RETURNED QUITE BLUNTLY, SAYING, "NO WAY! THE NEAREST TOWN WITH ANOTHER DOCTOR OR HAVING A HOSPITAL IS SIXTY MILES AWAY. WE DON'T HAVE THE MONEY TO PAY FOR ALL THIS PLUS THE GAS OF DRIVING. WE'RE JUST GOING TO HAVE TO BE A FOAMY FAMILY.
"MAYBE NOT", REDIRECTED "FREDDIE".
HE REACHED INTO HIS JACKET'S INNER COAT POCKET, PULLED SOMETHING OUT AND HANDED IT TO "ROONEY". IT WAS A PACKAGE OF GUM WITH IT'S UNUSUAL NAME ON THE RAPPER: "SPONGE GUM".
"THIS MIGHT CURE YOUR RABIES", SUGGESTED "FREDDIE FRUITMAKER": "A PACKAGE OF 'SPONGE GUM'. 'SPONGE GUM' DRIES UP ALL THE WATER IN YOUR MOUTH, MAKING IT FEEL LIKE A RAINLESS DESERT. IF IT DOESN'T CURE YOUR RABIES, AT LEAST IT WILL KEEP THE FOAM AWAY."
"ROONEY" TOOK THE GUM FROM HIS HAND AND LOOKED AT IT. "THANK YOU VERY MUCH", HE SAID: "I DOUGHT THAT IT WILL CURE OUR RABIES THOUGH; BUT I'LL GIVE IT A TRY."
SO, "ROONEY TUTOR" WITH HIS FOAMY LIME MOUTH, HIS DOG WITH HIS FOAMY LIME MOUTH AND "FREDDIE FRUITMAKER" ALL WENT THEIR SEPARATE WAY, AS THE TURQUOISE SUN WITH X'S STILL SHINED IN THE YELLOW SKY AND THE FLOWERS BIT AT EVERYBODY'S FEET.
ONCE AT HOME, "ROONY TUTOR" GAVE A PIECE TO ALL THE MEMBERS OF HIS FAMILY, GAVE A PIECE TO HIS DOG AND TOOK A PIECE HIMSELF. TO THEIR ABSOLUTE HAPPINESS, THE FOAM FROM ALL THEIR MOUTHS VANISHED.
AS "FREDDIE FRUITMAKER" WALKED THE SIDEWALK, LOOKING FOR SOMETHING NEW OUT OF THE OLD, HE WAS SURPRISED TO FIND IT. TODAY HE WOULD ACTUALLY FIND SOMETHING DIFFERENT. THE TURQUOISE COLERED SUN WAS STILL COVERED WITH X'S AS ALWAYS AND THE SKY WAS STILL YELLOW; AND THE FLOWERS STILL BIT HIS ANKLES, SINCE HE ONLY HAD SANDLES ON, IF HE WALKED TOO CLOSE TO THE EDGE OF THE SIDEWALK. IT WAS ALL VERY BORING.
THINGS CHANGED THOUGH WHEN HE RAN INTO "ROONEY TUTOR" ON THE SIDEWALK. "ROONEY" HAD HIS DOG WITH HIM AND HE NOTICED, THAT BOTH "ROONEY TUTOR" AND HIS DOG HAD LIME COLERED FOAM AROUND THEIR MOUTHS.
"'FREDDIE'", ASKED "ROONEY"; "WHAT ON EARTH IS WRONG WITH YOU AND YOUR DOGS' MOUTHS?"
"WELL", ANSWERED "ROONEY"; "A FEW MONTHS AGO, MY DOG CAUGHT RABIES AND GOT LIME COLERED FOAM AROUND HIS MOUTH. A LITTLE LATER, HE BIT ME AND I ENDED UP CATCHING RABIES, ALSO GETTING THE LIME COLORED FOAM. ABOUT A MONTH AFTER I CAUGHT RABIES, I ENDED UP BITING MY WIFE BECAUSE OF MY RABIES AND NOW SHE ALSO HAS RABIES AND FOAM. YOU THINK THAT WOULD BE ENOUGH: BUT SHE FLIPPED OUT FROM THE RABIES AND BIT ALL OUR CHILDREN AND THE BABY; AND NOW THEY ALL HAVE RABIES AND FOAM. IT'S A BIG MESS. I DON'T HAVE THE SLIGHTEST IDEA WHAT TO DO ABOUT IT."
"HAVE YOU TRIED GOING TO THE DOCTOR", ASKED "FREDDIE FRUITMAKER"?
"YES I HAVE", REPLIED "ROONEY". "THE DOCTOR TOLD ME THAT THE TOWN DOES NOT HAVE THE FACILITIES OR MEDICATION AND THAT IF MY FAMILY AND I AND OUR DOG WANTED TO GET MEDICAL ATTENTION, WE WOULD HAVE TO STAY AT THE DOG POUND. WE DON'T WANT TO STAY AT NO DOG POUND AND WE'RE NOT GOING TO."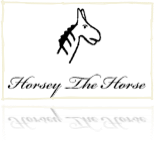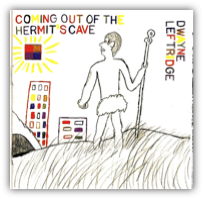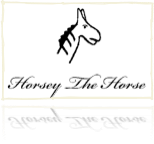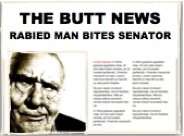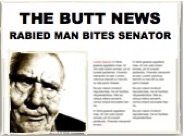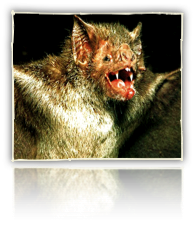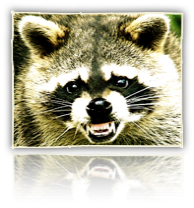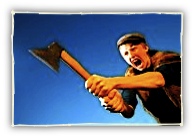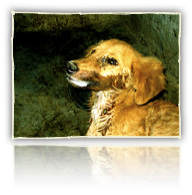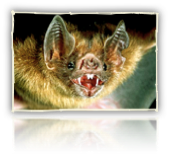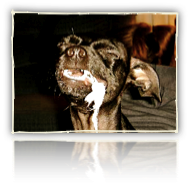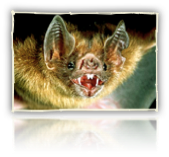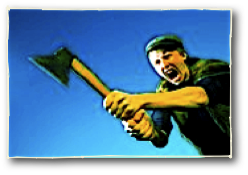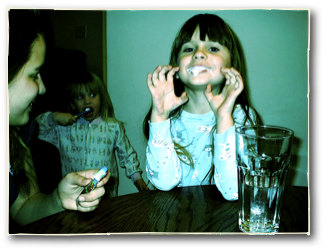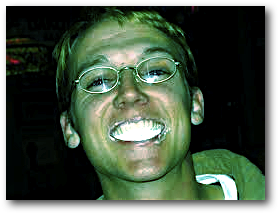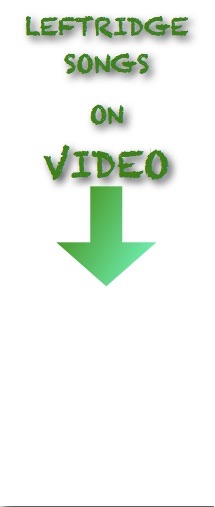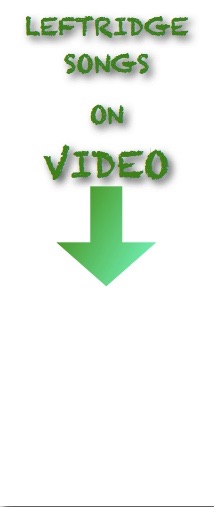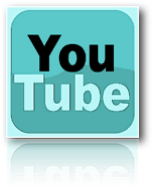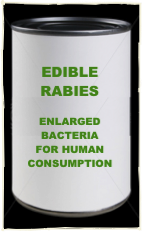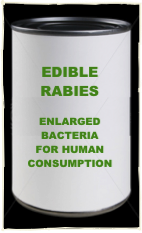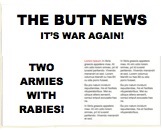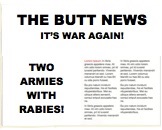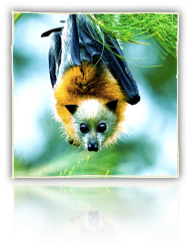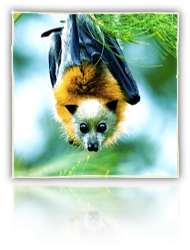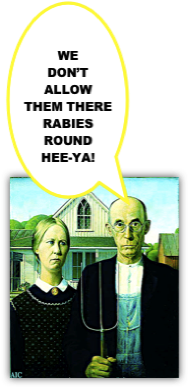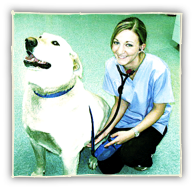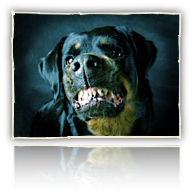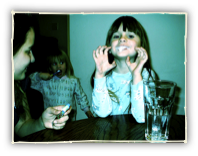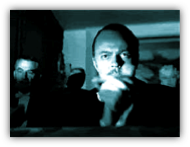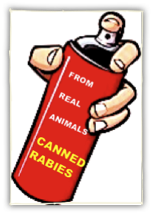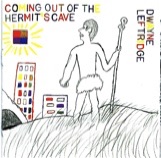 COMING OUT OF THE
HERMIT'S CAVE